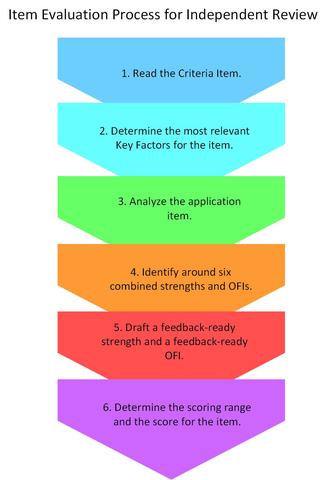 Welcome to Independent Review
As an examiner during this part of the award process, you will create and deliver a scorebook—your written evaluation of an award application. Scorebooks ultimately end up in the hands of award applicants and provide them with a Criteria-based assessment of their organization's strengths and opportunities for improvement (OFIs).
Baldrige Online Scorebook Solution (BOSS)
During Independent Review, you will use the Baldrige Online Scorebook Solution (BOSS) to enter your evaluation into a scorebook. Below are links to tools that were used in your training prework, such as the Evaluation Process for Independent Review (below), and other tools designed for review of an application. Please review these tools (all in Word) to help you get started.
Independent Review Toolkit 
Award Process Helpline  
Hours (Eastern): 9 a.m. to 5 p.m., Monday - Friday; 11 a.m. to 1 p.m., Saturday; and 4 p.m. to 6 p.m., Sunday
Closed on the following federal holidays: Monday, May 25th and Friday, July 3rd; and July 4th