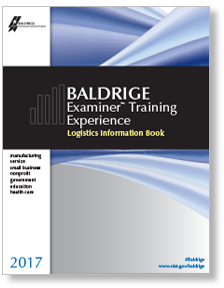 2017 Baldrige Examiner Training Experience Logistics Information Book PDF
Training Dates
New, Senior, Alumni Examiners, BETE Participants
April 25–April 27
May 2–May 4
May 9–May 11
Returning Examiners
April 26–April 27
May 3–May 4
May 10–May 11
Identification
PLEASE NOTE: Effective July 21, 2014, under the REAL ID Act of 2005, agencies, including NIST, can only accept a state-issued driver's license or identification card for access to federal facilities if issued by states that are REAL ID-compliant or have an extension.
NIST currently accepts other forms of federally issued identification in lieu of a state-issued driver's license, such as a valid passport, passport card, DOD's Common Access Card (CAC), Veterans ID, Federal Agency HSPD-12 IDs, Military Dependents ID, Transportation Workers Identification Credential (TWIC), and TSA Trusted Traveler ID.
To learn more about the REAL ID Act and to determine if your state or territory is compliant, visit the Department of Homeland Security's REAL ID Frequently Asked Questions web page at  https://www.dhs.gov/real-id-public-faqs.
All training participants must present a government issued ID at training registration and each day at the NIST campus security gate. Should you have any questions, send an email to examinerlogistics [at] nist.gov (examinerlogistics[at]nist[dot]gov).
Proof of U.S. Citizenship or Permanent Residency Requirement
You will need to present one of the following documents to verify your citizenship or US permanent residency:
U.S. Passport
Certified Birth Certificate Issued by the City, County, or State
Consular Report of Birth Abroad or Certification of Birth
Naturalization Certificate
Certificate of Citizenship
Permanent Resident Card
2017 Accommodations
Blocks of rooms have been reserved for examiner training participants at the Hilton Garden Inn and Homewood Suites. The hotel is within approximately a 5-10 minute drive to the NIST campus. Please see the "Directions from Area Airports to the Hilton Garden Inn and Homewood Suites" page in the BETE Participants Information Book (PDF) to assist you with more detailed travel directions. You must wait to receive an e-mail from our office confirming your scheduled training week before making your hotel reservation.
Hilton Garden Inn, $185/night (888-472-1096) and Homewood Suites, $195/night (888-472-1097) are located at 14975 Shady Grove Road, Rockville, Maryland 20850.
All Examiner Training participants are required to pay for their lodging expenses. Please call the hotel directly to make a reservation, make changes or cancel your reservation. Hotel reservations can also be made online (see below).
BETE, Senior Training, and New Examiner Orientation Hotel Check-in
Please make reservations for check-in Monday evening and checkout Friday morning.
Hilton Garden Inn and Homewood Suites reservations by Training Week
Hotel check-in date is one day prior to first day of training. Ensure that you have selected the correct check-in date.
Please Note: Make hotel reservation by selecting the Book a Room usa-button on the right above the hotel of choice.
Week 1 (Cut Off Date: April 4, 2017) Group Code MBA
Monday, April 24 – Friday, April 28
Week 2 (Cut Off Date: April 11, 2017) Group Code MBB
Monday, May 1 - Friday, May 5
Week 3 (Cut Off Date: April 18, 2017) Group Code MBC
Monday, May 8 - Friday, May 11
It is advised that you book early, the special room rate will be available until the cutoff date or until the group block is sold-out, whichever comes first.
Questions
If you have any questions please contact the Examiner Help Center at examinerlogistics [at] nist.gov (subject: BETE%20Logistics) (examinerlogistics[at]nist[dot]gov). Baldrige staff will be available Monday–Friday from 8:30 am–5:30 pm, Eastern Time to handle your inquiries.